Gilberto Gil still frustrates at 64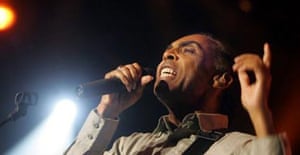 Lifelong Gilberto Gil fans are mostly bald. Not just because the Brazilian superstar been making music since 1963, but because they have been tearing at their hair in frustration at the patchiness of his output. Tonight's show was a case in point.
Gil has been Brazil's Minister of Culture for the last four years, but looks dashing and far from bureaucratic in his all white outfit and greying dreadlocks. Driven on by his spiky rhythm guitar, Gil's band were exhilarating when they hit their peak early on with a simple and effective Samba de Los Angeles. The crowd in the packed out hall responded by getting to its feet and staying there.
Gil can shake his backside like a man possessed, and still has an impressive voice with a range from Justin Hawkins at the top end, to Andrew Eldritch at the bottom. He roamed the stage with energy, punctuating instrumental moments with piercing whoops, and led some call and response that tested the audience's vocal range. On favourites including Realce, Palco and Toda Menina Baiana, written about his home town of Salvador, he had people singing along and dancing with varying degrees of success to the syncopated samba beats. A raucous carnival set at the end of the night was a riotous success, and proved again that the Grammy-winning superstar is still vital listening when at his best.
This is the man who, with his friend Caetano Veloso, is feted as the founder of the late-60s Tropicalia movement, which launched the careers of legends Tom Ze, Os Mutantes and others. But there were low moments tonight, which seemed a long way from the dizzy heights of 60's Brazilian creativity.
Since the Tropicalia days, Gil has made a career as an unashamed musical magpie, and has a sweet tooth for pop music that has resulted in misjudged and syrupy songs. His reggae output was never his strongest, and a Jamaican flavoured set seemed rather dull and pointless. He played two Bob Marley covers, which he obviously enjoyed, but added nothing of himself to the songs. There was a cheesy bossa nova version of John Lennon's Imagine, some pompous Brazilian pop/rock, and even a round of unnecessary solos that underlined the bands tendency to over play.
However, when you delve into Gilberto Gil's back catalogue as we did at this concert, you have to be prepared to take the rough with the smooth. Clearly, The Minister considers himself to be somewhere in the middle of his long career, and not at retirement yet. This is good news, as he may produce some more gems for us in the coming years. Surprisingly, Gil is now 64, as he revealed in a beautiful, tropical version of the Beatles' 'When I'm 64' at the end of the night, but all the signs were that he will still be touring in 20 year's time, as sprightly and frustrating as ever.
I suspect many of tonight's audience will be there again – bald, but happy.
The Barbican, 26 June 2006
Original music criticism for The Independent